RE: Overkill's devlog
Hi, here's another weekly update.
I started blocking out some other rooms. I made this forest / plant zone underneath the "castle" zone:
Still super rough, and it will probably need to change as enemies and interactive objects are placed, and game progression is figured out. Anyway, having fun trying stuff out.
Trying to keep to decorating things with a limited amount of tiles, conveying the general texture / theme of stuff with a couple small repeating patterns. The forest uses about 3 main tiles:
foreground "grass"/"bush"/"leaf" tiles
background tangled knot of roots/branches
background vines/branches
Then there's a couple blocks or bricks over that, but they're less common in the central rooms of this area.
In designing the rooms, I tried to make sure every area has multiple exits and distinct areas that can be reached. I've been trying to make branching paths that have you weave through multiple rooms, so you need to figure out how things connect. It's pretty basic so far though. There's no key items or collectable abilities yet, so it's pretty easy to "solve the maze" heh.
I still don't know how I'll fill in the rooms yet, but it's a start.
---
---
---
Also started mocking up this HUD, just tossing something very basic in: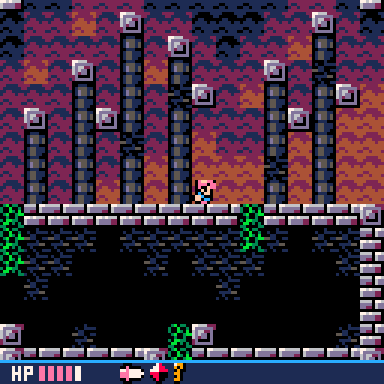 Since it's a "fixed-screen" platformer, I thought a static full-width HUD probably makes the most sense. I was originally thinking of a HUD that repositions itself depending on your spot, but realized those are a bit annoying. And hiding the HUD isn't really an option unless player health is communicated some other way, or you have a life bar over your player (ugly). And a fixed, floating HUD like Mega Man is more fitting for a game with a scrolling camera and fairly tall corridors, it doesn't really work here. So static HUD it is!
To compensate for the 8px of space used by the HUD, I scrolled the camera up a half-tile (4px) which seems to work ok. And it saves the need to edit all existing rooms to be 15 tiles tall instead of 16. I prototyped scrolling the camera slightly as you navigated but found it a bit annoying in practice to see it pan every time you go. So a fixed half-tile offset seems to be an ok compromise.
---
---
---
Still seems like I'm in recovery mode, but every couple of nights, I poke at this prototype for an hour or so. Wish I could eventually figure out where this is headed, but it's still nice to make minor progress somewhere.
I also got my second shot on the weekend. Aside from a bit of a bruised/heavy feeling in my arm, and being a bit drowsy afterwards initially, there weren't really a lot of other side-effects. After the 2 week recovery mark passes, this may mean more changes, as it will be possible to do a little more outside of the house. I'm still pretty hesitant about being too ambitious with that though, since lots of people still aren't vaccinated yet, and the new delta variant, etc. Also it may mean working outside of my house a couple days a week, and I have mixed feelings about this. We'll see.
Anyway, catch you next time!
posted in Blogs