RE: [Gruedorf] HatchetSoft updates Thread
So it's been a few weeks, and luckily this time I actually do have some progress to report! The mockup from the above post has now been fully implemented. The movement buttons are clickable (if you're crazy enough to play it that way), and in that bottom right multi-purpse section as well are sections for using keypads to open code-locked doors, and my personal favorite, lootable chests. With the convenience of rightclicking to auto-add to your inventory: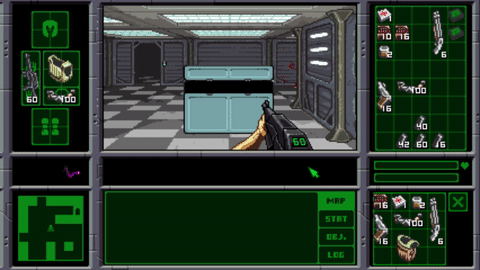 As for the map area that used to be in the bottom section, I may repurpose it to be a more general "wireframe" area map of whatever deck you are on, but this hasn't yet been fully decided. Of course that area is still used for log entries/objectives, and stats as well. As a quality of life feature, you can also now use the mousewheel when reading logs!
There are still a couple features that need to be re-added to the pygame port, such as the air pressure system for hull breaches, and the "smooth" movement which transitions when walking between squares of the map. This will be an optional feature since not everyone prefers that look, though it does make more clear especially in videos which way the player is moving. Long term, one big feature to still add is saving and loading, which is a bit more complex than just saving player stats because the world is not static. But I have a few ideas on how to handle that.
All in all, it is already starting to feel less like a tech demo and more like an actual game. Hoping I can keep up the momentum!
posted in Blogs