Right so the start of this crunchless challenge that I'm working on this roguelike gridder game for is looming ever nearer, and so now the pressure of actually trying to plan/figure out if I can finish dev, market, release for sale the game by the end of November is starting to increase.
Based on the scope of what I want to include, including all of it in the initial release at the end of November doesn't seem feasible. Also the price I found to be ideal for this type of game based on the bit of research I did for other similar games seems too high for what I think will be possible at the end of November, so I think my plan is to release in Early Access at a lower price, then release updates for a bit, bump it out of Early Access and increase the price to the price I found through market research.
So I spent a bunch of time putting some items into Quire, trying to organize based on need/want, tagging with type of task, and started organizing the initial release.
I feel like I've gotten a lot of stuff done with the level generation, etc, but wow is there a lot of stuff left. 22 tasks in for the end of november so far, and potentially more as more items are thought of. Luckily some of those I think can be cut from the release if needed, although all of the items are things that I think would be nice to have in a paid early access.
I'm also adding in a bunch of other items to try to plan out one or two other releases after the initial release, I think if I want to ever kick this entirely out the door and get back to my game engine project I'll need to wrap this darn thing up within a few months so I can re-focus on my engine, if anything cutting most of it and selling for less than the market research price i found seems like a reasonable action instead of leading people along to have a ton of planned features.
Of course releasing something for sale as early access implies that there will be possibly significant features to be added in the future and ongoing development, so I'll probably want to define what is going to be added prior to release in order for transparency to any possible purchasers of the game. If anything I'll probably go for the under promise and over deliver policy just so that people feel like they're not being cheated out of something cool, and instead will get new things added in as they are available.
Due to that policy of under promise and over deliver, I suspect not making a statement on how much the final price will be is a good idea, that way it can be adjusted based on how much content is actually chunked out. In addition, cutting the early access price to be low seems good to ensure that even if nothing else comes out after the initial release, that the cost will be worth it.
I suspect adding new content as long as it isn't new mechanics should be fairly straight forward, so I think there is definitely going to be at least 1-2 more releases after the initial release just to output more content to be distributed into the procedurally generated levels.
So on to describing the tasks and how I organize them.
First I'll give the disclaimer that of course none of this is committed to be in the final product yet or to ever be released this is just a working wishlist of items that would be nice to add.
This is all of what I have planned to do between now and November 31st so far, with possibly more stuff to come (Note that testing or polishing isn't really included here, this is basically getting a MVP out the door and for sale as Early Access):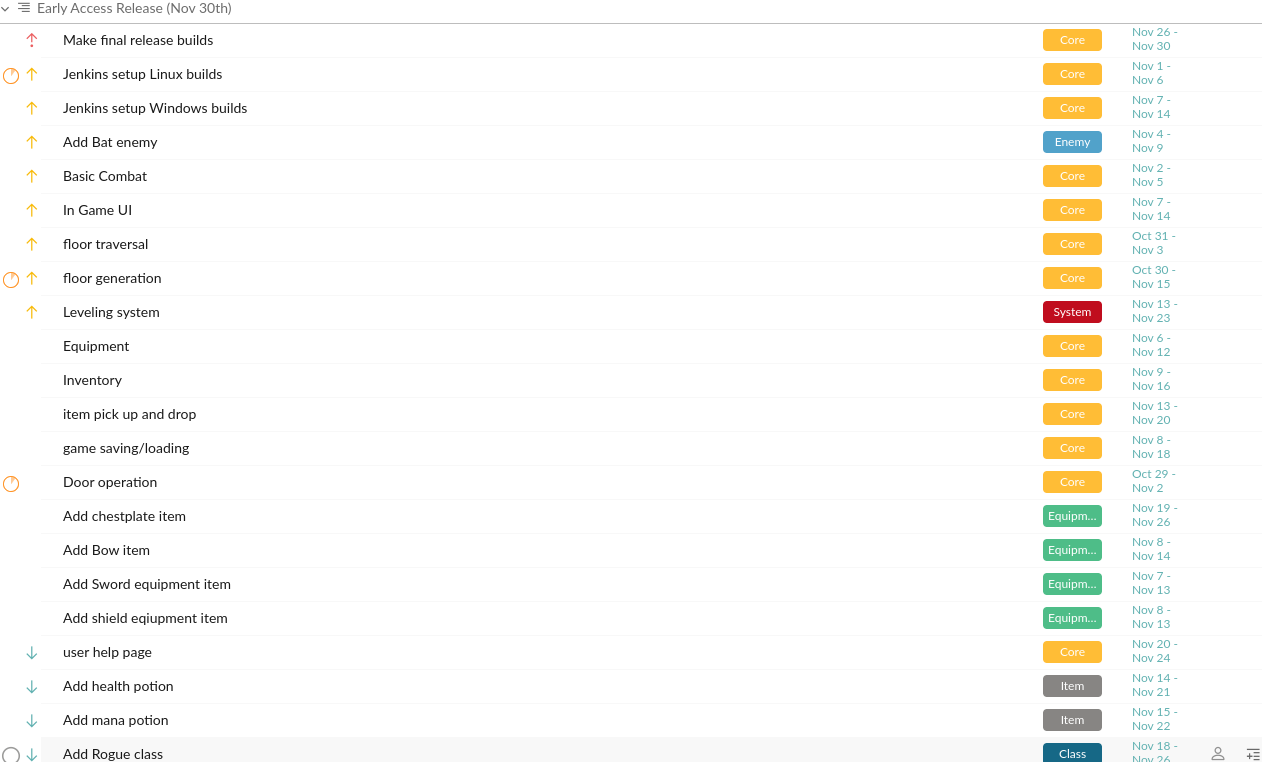 Basically I'm organizing everything with tags to say what kind of item it is, if its got the "Core" tag it's considered fairly crucial to the initial release and cannot or should not be cut.
From there I lumped it into a sublist of just things I want to do for the initial release, and then gave everything start/end dates to try to ballpark how long each item will take, etc. One issue though is I'm not properly pointing/estimating time, because there's always going to be some variance in terms of how long things take or how often I feel like working on this project.
I also have a sublist for a proposed follow up feature release after the initial release but of course, that's all mostly up in the air based on how long this takes and how long those features take.
Probably the item that will cause me to fail this challenge is of course, not feeling like working on it and playing on the Switch instead. I consider all of the programming work completely doable in this time frame with the caveat that it might be considered crunch to fix all the bugs, and the art is going to be rushed pixel art, so it's not going to be anything fancy or take too much time.