well I guess it's about a week-ish since my last post, and for consistency I should probably post again.
Not much to talk about on the game engine front, been writing boring json saving/loading code as per usual.
But I started a new project! hopefully it won't turn out like the last time I mentioned starting a new project in Godot and then stopped working on it pretty much that same week.
I've been playing a ton of Tales of the Neon Sea lately, got it free on Epic and boy is that a fun game. It's got some very beautiful pixel art, and it's a story based detective/mystery solving game, with all sorts of puzzles and such. it kind of reminds me of a point and click game, but it's also a side-scroller, and has some really slick pixel art and pixel animations.
I don't consider myself good at pixel art, I consider myself passable at it. But combine that with being reminded that pixel art in 3d with modern effects looks super cool, and being also passable at 3d modeling, I'm now in the process of throwing pixel art into 3d scenes in Godot and hoping it sticks.
This is one of those projects where I start diving into art first instead of any planning or story, which means its bound to die within a few eons, especially since I'm currently in the process of hand making normal maps for some of my tiles. Very tedious stuff, and I have no way of knowing if it'll look cool or not.
On the front of making the pixel art go into 3d, I'm not entirely sure on the method I want to use, Godot does support just straight Sprite3D objects, which is basically a 2d sprite rendered in 3d space, and they can be animated like 2d sprites, and have the option to be billboarded. However there's also this pretty slick addon for Blender I found called Sprytile which is free. Sprytile isn't like, always the easiest to use or the fastest most intuitive, but it does let you make 3d models with pixel perfect textures, either applying the textures onto a pre-made model, or making models with the textures, and it supports tilesets. so you can basically make a regular old tileset, and then map that into 3d.
i'm hoping to combine that with hand drawn normal and roughness maps in Godot, to make some PBR-ish pixel art so I can do some cool 3d lighting and GI effects to hide the fact that my pixel art is bad.
So far I haven't done much, but here's a quick peek at what I've got with a mostly default Godot scene, and a couple Pixel art assets: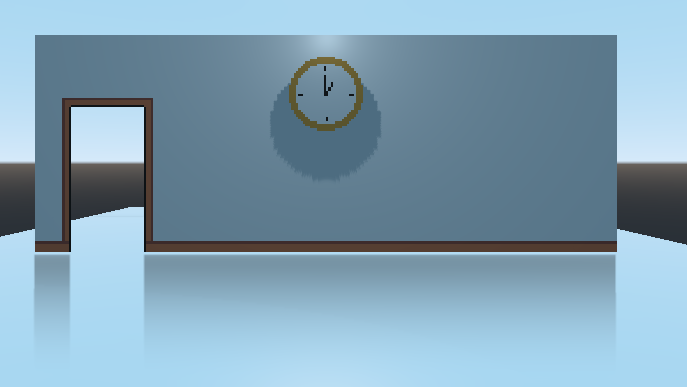 Both the pixel art assets are Sprite3D for now, and the floor is just a CSGBox for now, with a very reflective surface on it to show off the SSR. I'd put some reflection probes in but I've found they are kind of shitty for a direct mirror finish like this and work better with more uneven surfaces.
I think the plan for if I ever make a character for this is to make a 3d model and render it out as pixel art in Blender, but for now I'll probably just use a box as the character and try to get some type of gameplay down. I'm hoping that with more of a point and click type interaction it should be simpler to do, maybe some side scrolling segments too, but hopefully I can get some kind of gameplay that consists of interacting with items, and maybe popping up panels to interact with for like, minigame type puzzles.
I think once I get a basic prototype with working gameplay, it'll be easier to continue from there and come up with art and story once that's there. That way hopefully instead of having scope creep from making a massive story and then burning myself out on having too many potential coding features, I'll be able to go the other way, do the coding and add the features/puzzles or the ability to have puzzles and do interactions, and then I can do the story writing and actual game design stuff once I have features that sort of work, I think/hope that workflow will let me not get super burnt out, or at least I can call it quits sooner based on being bored of the mechanics themselves, instead of being bored of making art.