Heyyy everybody, it's egg here. Another week has flown by, and as usual things were very busy at work.
But not-so-usual, on this weekend, I ended up participating with some friends in the Ludum Dare 48 game jam.
We made a short game named "Frog", which you can download here!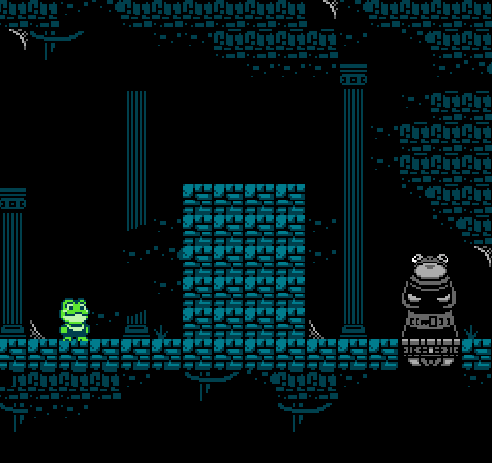 You're a frog and you shoot bubbles! Descend the depths, find the treasure!
Credits
Plays in an NES emulator, or on a Famicom/NES/Famiclone that supports VRC6 sound expansion.
---
---
---
The game is pretty short, but considering the timespan and that it's a real NES game, I'm pretty happy with what we manged to accomplish.
Thankfully, we picked the category of Ludum Dare that allowed not only team collaboration, but using existing code. Chris Cacciatore provided his NES-based game engine Veil to work with, and it was pretty fun learning how to write code with this toolchain. Chris, Dustin, and I collaborated on the coding side. 2bitcrook did the excellent pixel art for the backgrounds and frog + bubble sprites. The game supports VRC6 expansion chip audio, and kulor provided really cool music and sounds for that take advantage of this.
It had been a while since doing any sort of game jam/compo, so it was great being able to team up with a few friends to make this. It was a bit tiring at time, as I forgot how stressful fitting things into single weekend can be, but once I found the right rhythm and got used to working in the tools, things started to snap in place. It was helpful to synchronize on tasks each night + morning during the jam, as it let us brainstorm and change plans/limit scope when we were getting a bit stuck.
We originally had a few ambitious plans for the frog and the level layouts originally, with scrolling levels, multiple enemy types, and a tongue mechanic, but we quickly scaled it back. The final game has a bubble mechanic + static obstacles to navigate in order to reach the goal in each room. I'm happy the readjustment happened early enough that we could salvage the idea, and we managed to make some neat levels around it.
Hopefully people get a chance to play and try it out! It's a bit buggy, as with any jam game (especially a crash at the ending, some sprite and physics glitches), but for the time allotted I'm pretty happy with the little platformer creation we accomplished.
Getting to jam was a nice way to recharge motivation for personal game projects. But on the other hand, it was also very exhausting to spend an entire weekend basically only working on that, with small breaks for food + walks. So that's definitely not a regular thing I want to do. However, I'd potentially do another jam if circumstances were to work out again.
That's all for this week! Hopefully soon I can finally dust off my projects and talk about something new.