This week was slower!
I worked on Wandering Magic MSX some more. I've been porting the enemy logic from the original Lua code to Z80 Wiz code, So far, it's going okay, but some things that are really easy arithmetic / comparison / math library calls in a high-level language, have to tediously be rewritten in assembly. Things like comparisons, while easy when comparing 8-bit values, quickly get messier when extended to 16 or 24 bits. Also, there's a fair amount of counter variables that need to be split into multiple 8-bit pieces since (IX + dd) indexed addressing mode can only address a single byte at a time -- so increments/decrements/adds/subs need to propagate intermediate results across the carry, zero, or negative status registers so that 16-bit math can be done. Eventually register pressure becomes important too, and book-keeping all of this can be tiring. I put it down for a moment, but I'm getting closer!
The "patrol" AI for the slimes, snakes and knights is a bit complicated, but the good news it will make a few enemies in the game work at the same time, once supported. Going to keep pushing this porting effort, and see about phasing features in a bit at a time, until each can be tested and verified separately.
Also, my MegaFlashROM SCC+ SD flash cart arrived in the mail: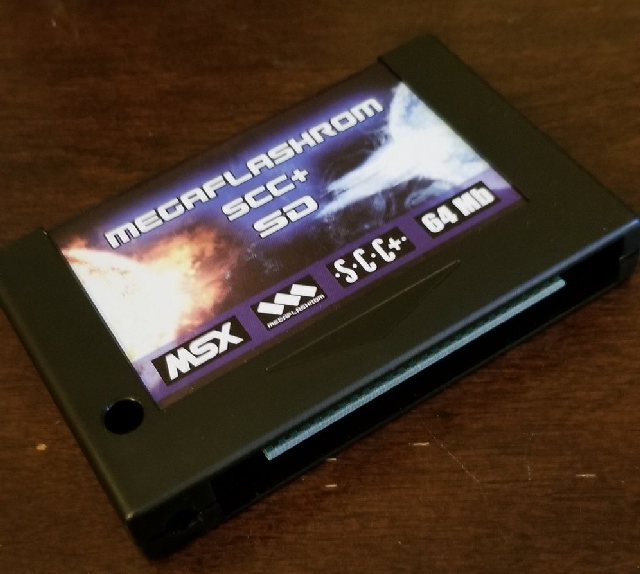 Still awaiting my Panasonic FS-A1, but once I have that, I'll be able to try things out on a real MSX system.
---
---
---
Recently, I was also a bit bored, and decided to write some data structure code in C. It had been a while since I wrote a hashtable/dictionary type, and so I made a hashmap implementations.
The hashmap does open-addressing / linear-probing and uses user-provided storage for tables with zero heap allocations during insertion. Instead the hashmap's put operation simply fails when the table is too full. Like most hashmaps, it has best-case O(1) constant time, and worst-case O(n) linear time for lookup/insertion/removal, and it has O(capacity) iteration time.
I also provided some helper functions to adapt this to a dynamically-allocated + resizable hashmap, by adding an insert operation that will swap the storage to a bigger area on the heap as the capacity is reached. I also made it so hybrid static/stack allocation + dynamic allocation could be used in the same hashmap, by keeping the user-provided storage and only allocating when capacity of the current user-provided storage is exceeded. This allows optimization akin to the SmallVector type in LLVM, but for a hashtable.
In addition, I also did some library functions for a contiguous list data structure. Like the hashmap, they both serve as a simple wrapper over a plain array of data, or when wrapped with some dynamic-allocation, a resizable vector. And it's possible to mix both pre-allocation + heap use again.
Stuff that doesn't need the heap though, will be able to cleanly avoid this and build lightweight lists and hashes, or statically-allocated ones that are loaded when the program begins.
I also worked on a lightweight parser for a toy language. In some ways the scripting language could be thought of as similar to VergeC in some ways, where there are only a few built-in data types, no garbage collection. But unlike VC I was thinking to have automatic memory management through unique pointers to data + ownership/move semantics. Not going to allow refcounting, because the whole cyclic resource ownership problem it can cause.
Within the compiler I had the idea for some kind of language that could target a fairly "robust" set of features with a single-pass parse, but no Abstract Syntax Tree, instead convert directly to Immediate Representation, and either interpret that in a VM as a "scripting language", or translate into something like equivalent C code, WASM or LLVM IR.
The idea being this language could be used to prototype stuff fast as a scripting language, and then build to C or IR when performance is desired.
I was also thinking of potentially digging out an old register-based VM (that I think I called "lilvm" heh, not to be confused with llvm) I had started, and see if any ideas from that mesh.
Anyway, I don't really know what I'm doing yet, this idea is very much in the air, and so far I'm just building pieces that could potentially be used in a compiler. and coming up with ideas for a simplistic scripting language that uses strong typing, and compiles quickly.
My hope is something as easy to embed as Lua, but with no GC, C-like + simple to learn, and have the ability to turn into native code later. I don't know if I'll finish this, but having fun trying stuff out.
---
---
---
Also, outside that, I turned 33 and relaxed a bit. Happy Birthday me! Next weekend is easter so an extra day to relax again soon. Talk more next week!