This week I ended up expanding on that MSX mockup of Wandering Magic, and started planning a possible true MSX port of the game.
Then I sat down and learned a bunch about coding for the MSX1.
Along the way, I learned the MSX has a pretty extensive BIOS that provides many routines for common interactions with the hardware, so it took some learning to do things the "best practice" way. Some performance might be sacrificed, but it ensures compatibility between versions. And there are also faster methods for looking up I/O ports for some things, for stuff like graphics coding -- where it probably matters most.
I updated Wiz's MSX "hello world" example to use these BIOS routines: https://github.com/wiz-lang/wiz/blob/master/examples/msx/hello/hello.wiz
Previously I thought you had to write to I/O ports directly if you wanted any sort of speed, since I'm so used to that with other systems, and figured the BIOS was for BASIC programs only. But happy to be wrong here, and it's easier to write code this way too.
Now back to Wandering Magic. I also coded some sprite drawing code that handles scrolling the sprites off both sides of the screen, and an entity system (so far just spawning/updating/drawing -- no collisions, no gameplay specifics yet). I also split the art work into bg and sprite tiles, and convert them using tools.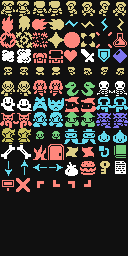 Next up, I want to draw the background map, and see if I can get some player input and movement. The MSX has tons of RAM available, so it's probably possible to unpack the entire room into individual 8x8 tiles in RAM, and transfer it to the MSX's tilemap VRAM afterwards. I guess I'll try this soon!
See you next week!